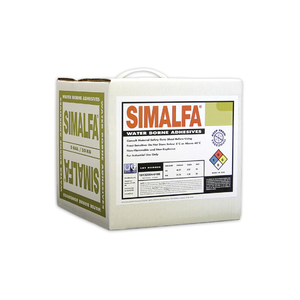 Introducing Simalfa 309-OF, a groundbreaking adhesive that revolutionizes spray application with its exclusive "Overspray Free (OF)" technology. Experience the ease of application and immediate adhesion without any undesirable airborne particles.

Unlike traditional methods that attempt to control overspray through costly equipment and precise spray gun settings, Simalfa took a different approach by harnessing the power of chemistry. By doing so, we have effectively eliminated operator variables that contribute to overspray.

Our innovative technology enables the adhesive to be sprayed in a controlled web-like pattern, effectively preventing the release of airborne adhesive particles and the formation of a dispersed "cloud." This breakthrough ensures a clean, secure, and highly efficient environment while minimizing waste.
COLOR: Natural or Red
SIZE: 5 Gallons / 20kg
LEAD TIME: No lead time - product is in stock

SHELF LIFE:  6 months from DOM
CERTIFICATIONS: GREENGUARD Gold Certified ®

PRIMARY INDUSTRIES: General Purpose - Flexible Foam Adhesive
SKU: 309-OF-5R